Presentation of TX-712B separator made by Alfa Laval (Sweden) for washing of tapioca starch
The outstanding benefits of using Alfa Laval TX-712B separator:
(1) Big savings on energy costs
- TX-712B is a compact, high efficiency separator. Besides, a power recovery ring is fitted on top of the bowl (acting like a hydraulic turbine) converting kinetic energy of the liquid coming out from the bowl into momentum which has same direction with bowl rotation direction, pushing the bowl to turn faster, thus decreasing the power consumption of the machine.
- The power consumption of TX-712B is about 40%-50% lower than any other separator available in the market today (when operating at same capacity). This help to dramatically reduce the energy consumption of pre-concentration & washing steps in tapioca starch plants. With plant having capacity of 300 tons of product per day and running time of about 300 days per year, the energy saving can be up to USD 150,000 – USD 200,000 annually.
(2) High recovery rate, high and stable product quality:
TX-712B is equipped with VFD, advanced EPC-60 Controller, flow transmitters for starch milk inlet and wash water, vibration sensor, etc. to continuously monitor and control the running parameters of the equipment and process.
Especially, TX-712B is equipped with Automatic Control of concentration (Baume) of the starch milk outlet:
- Flow rate of starch milk inlet is automatically controlled. Concentration (baume) of starch milk outlet is very stable, regardless large fluctuation of the concentration (baume) of starch milk inlet.
- Reduce risk of starch lost in overflow when baume outlet is too high (normally happens due to large fluctuation of concentration of starch milk inlet during production)
- Ensure stable and high product quality, thanks to automatic adjustment of wash water flow to the separator as per pre-set value
(3) Easy to operate, low operation and maintenance costs
- TX-712B is medium size separator which is very suitable for tapioca starch plants in Vietnam. Depending on plant capacity, suitable number of machines will be installed to provide operational flexibilities and safe operation of the plant.
- Very easy to operate, low operation and maintenance costs.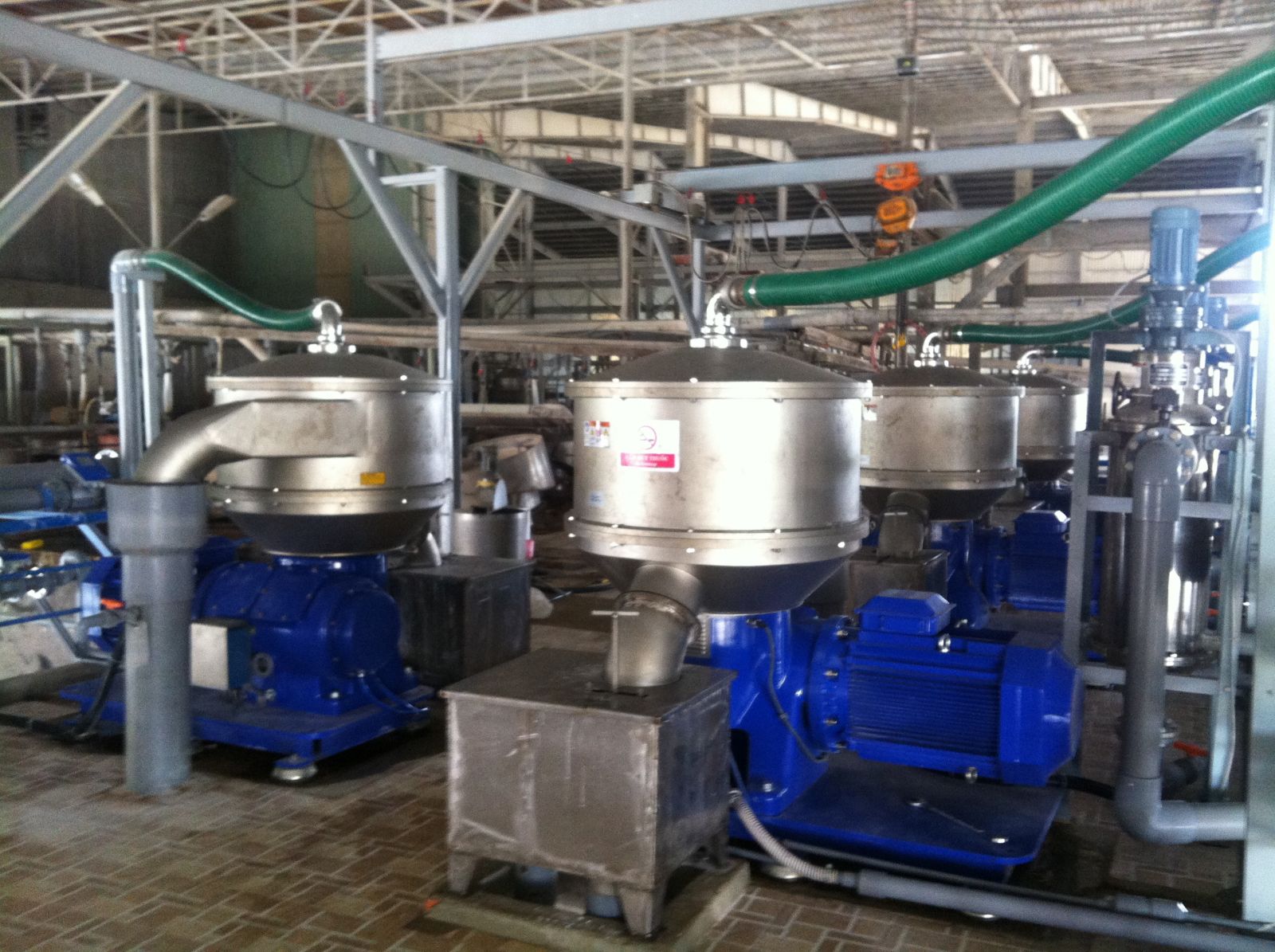 Alfa Laval TX-712B has been widely used & highly appreciated by many customers in Vietnam such as Hung Duy Co., Ltd, Nguyen Liem One Member Limited Liability Company, DMC Tapioca Co., Ltd, Xuan Hong Enterprise, Hong Phat Co., Ltd (Chau Thanh – Tay Ninh), Hung Lon Tapioca Starch Co., Ltd, Binh Phuong General Import – Export JSC, Phuc Thinh Tapioca Starch Plant, An Thai Tapioca Starch Plant, Ba Thuoc Tapioca Starch Plant, Hoa Son Tapioca Starch Plant, BHL Son La Tapioca Starch Plant, etc.
Being a world leading group, Alfa Laval is looking forward to extend cooperation with customers in Vietnam and to contribute to the sustainable development and success of Vietnam tapioca starch industry in long term.
Contact address:
Alfa Laval Representative Office in Hanoi
Unit 11, 12A Floor, TNR Building
54A Nguyen Chi Thanh Street, Hanoi, Vietnam
Tel: + 84-4-3-7725067 / 68
Mr. Tran Quoc Doan – Sales Director
MB: 0903.433.750; E-mail:
doan.tran@alfalaval.com
Website:
www.alfalaval.com
Price Table
Tapioca chips price dated 09/11/2018

FOB Quynhon

$255/MT

Tapioca starch price dated 09/11/2018

FOB Hochiminh

$500-505/MT

DAF Langson
3,480-3,600CNY/MT
FOB Bangkok

$ 495/MT

Raw materials price dated 09/11/2018 (starch of 30%)

| | |
| --- | --- |
| Tayninh (Cambodia & local area) | 2,800-3,100 VND/kg |
| Daklak | 2,700-2,800 VND/kg |
| Gia Lai | 2,700-2,800 VND/kg |
| Kontum | 2,700-2,800 VND/kg |
| Northern (in lots) | 2,350-2,550 VND/kg |