Mealybug damage on 158ha of cassava
According to Department of Horticulture and Plant Protection Phu Yen, currently mealybug damage on 158ha powdered cassava leaves stage of development, create tubers in most areas in the province of cassava, an increase of nearly 100 hectares from the previous month. In particular, the district has an area of ​​mealybugs were harmful as high as nearly 73ha Song Hinh, Dong Xuan 70ha ...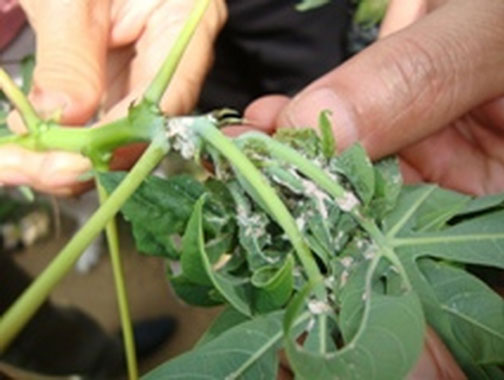 Department of Horticulture and Plant Protection Phu Yen identify that, in future, mealybugs will continue to rise, causing heavy damage on cassava in the uplands lack of water, contaminated seed growing areas. Therefore, the local people informed strengthen field test for early detection of the presence of mealybugs. Held simultaneously destroyed upon detection mealybugs on cassava farm by stopping the tip tops and gathered tops victim was interrupted burned to avoid spreading and specific spraying to control. Besides, the old cassava cuttings collector burning leftover from previous season because this is the source to mealybugs spread of cassava fields.
LE TRAM
Phu Yen Newspaper Online
Price Table
Tapioca chips price dated 24/05/2019

FOB Quynhon

$230/MT

Tapioca starch price dated 24/05/2019

FOB Hochiminh

$430-440/MT

DAF Langson
2,850-3,000CNY/MT
FOB Bangkok

$ 445/MT

Raw materials price dated 24/05/2019 (starch of 30%)

| | |
| --- | --- |
| Tayninh (Cambodia & local area) | 2,600-2,700 VND/kg |
| Daklak | - VND/kg |
| Gia Lai | - VND/kg |
| Kontum | - VND/kg |
| Northern (in lots) | - VND/kg |